THE INTEGRATION PLATFORM GHOSTNODES
SELF-MANAGED SYSTEM INTEGRATION
One of the core areas of RelyITS is integration as a service. This solution is centered on us running everything from development and management to server operations. Everything it takes, in other words. All you need, in certain cases, is an agent installed on a server in your own operations environment.
For certain needs, however, a better solution may be to manage all systems integration yourself. Above all, it is an interesting alternative for larger companies and organizations that have their own development and administration functions.
In partnership with GhostNodes we are able to provide you with a powerful integration platform that can simplify everything for you.
GhostNodes allows you to set your integrations up using a simple interface – by just assembling the whole process from the blocks
You don't need dedicated hardware – instead opt for a lightweight clients on your existing machines
Platform independent, so you can connect anything to anything, just like that.
Please get in touch if you would like a deeper introduction to GhostNodes and how we can help you use it for your business.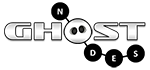 Let us tell you more about how we can help you and your business.
IN SHORT
RelyITS is the company that never forgets that it is the benefit to you and your company that decides if our solutions are successful.